You are here
Squire
The Squire is a Unique Lecture Theatre in Basingstoke able to Accommodate up to 240 Delegates.
It features a 3.5m screen, a high definition projector, stage lighting, and the ability to host live link events.
With the installation of a 'catwalk' it is also an excellent showcase and exhibition area.  
The Squire Lecture Theatre can also be split into two separate rooms (Upper & Lower Squire), which offers additional break-out space, or you can have two presentations running alongside each other.
For more information about The Squire theatre, or to discuss hire rates, please contact us today.
Projector and Screen
Investing in new audio-video technologies for our Squire Theatre, it now boasts a 4K projector delivering brighter, sharper image details. These are supplied by full HDMI (and VGA) connectivity through the latest Crestron Max Computer system, allowing multiple laptop connections across the panel desk and podium. Perfect for media-rich presentations or seminar Q & A sessions. Our impressive large widescreen format projector screen stretches from stage floor to ceiling for maximum viewing.
Microphones
The Squire Theatre features Shure gooseneck microphones on it's dedicated speaker podium and a few more on the four-person panel desk; perfect for Q&A sessions. In addition, we have numerous wireless Sennheiser handheld and lapel microphones.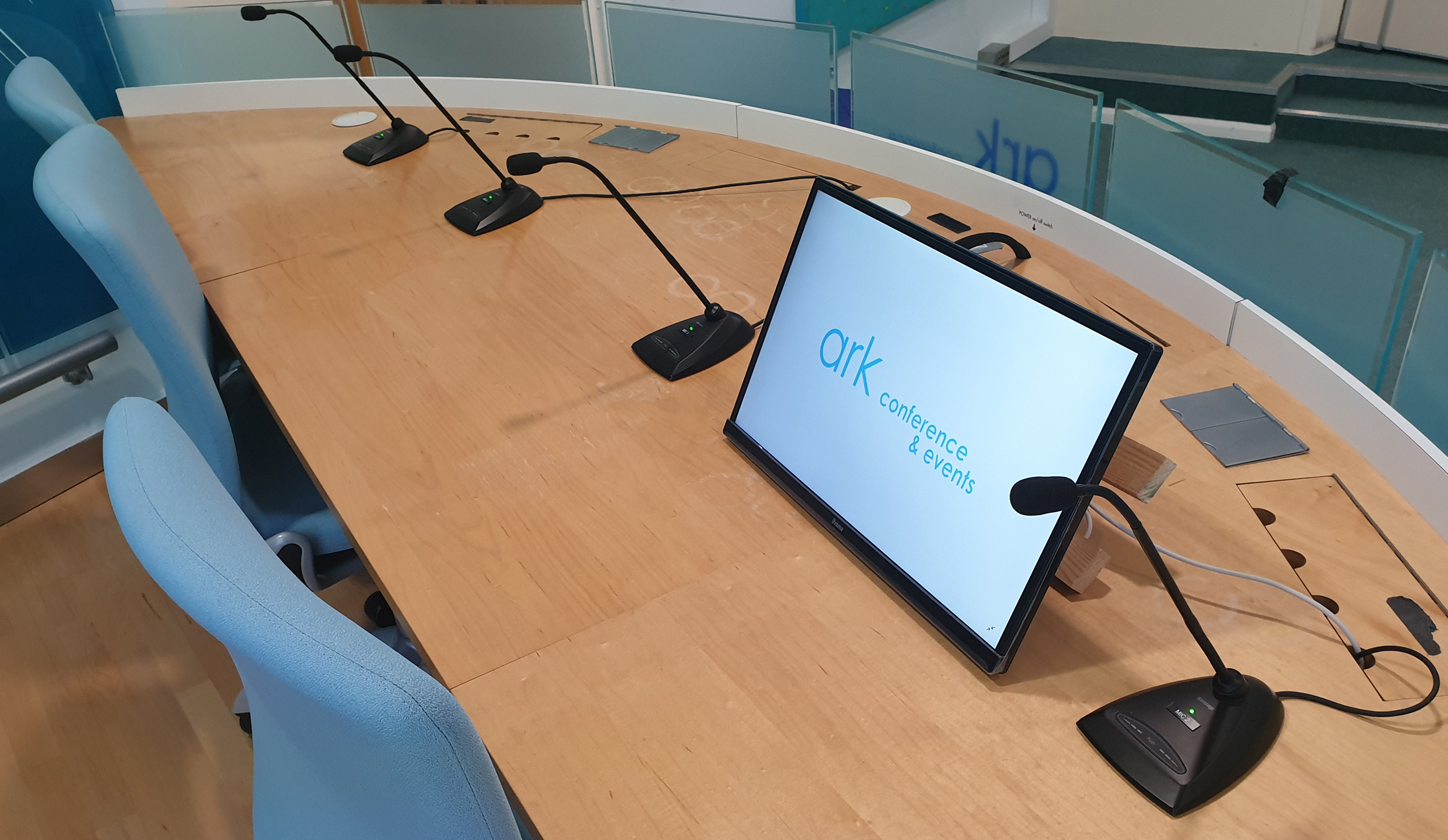 - Speakers
The Squire has been fitted with speakers from QSC, with separate tweeter and woofer controls; making it flexible to use it as a PA for speakers, playing music or even a film. 
Live Link Streaming
Events in the presentation theatre can be linked via high-speed fibre connection to and from hospital operating theatres, allowing us to deliver complex events such as live video link from the hospital; providing the ability for additional delegates to participate. The main auditorium can broadcast content to other parts of the building via our comms room, keeping satellite rooms and refreshment areas up-to-date on content.
Presentation Capture System
Live video and audio recordings can be another way to post content online and continue interactions after the event. For capturing those great speeches and presentations we now offer recording & broadcasting through a Black Magic Capture System. This allows two or more 1080p cameras to record directly to a hard drive. Added to our fibre broadband capacity we can also provide live streaming for external viewing of the event.

 Coloured LED Lighting
The stage, stage stairs and side walls have been fitted with multi-colour LED lights that we can change to a variety of colours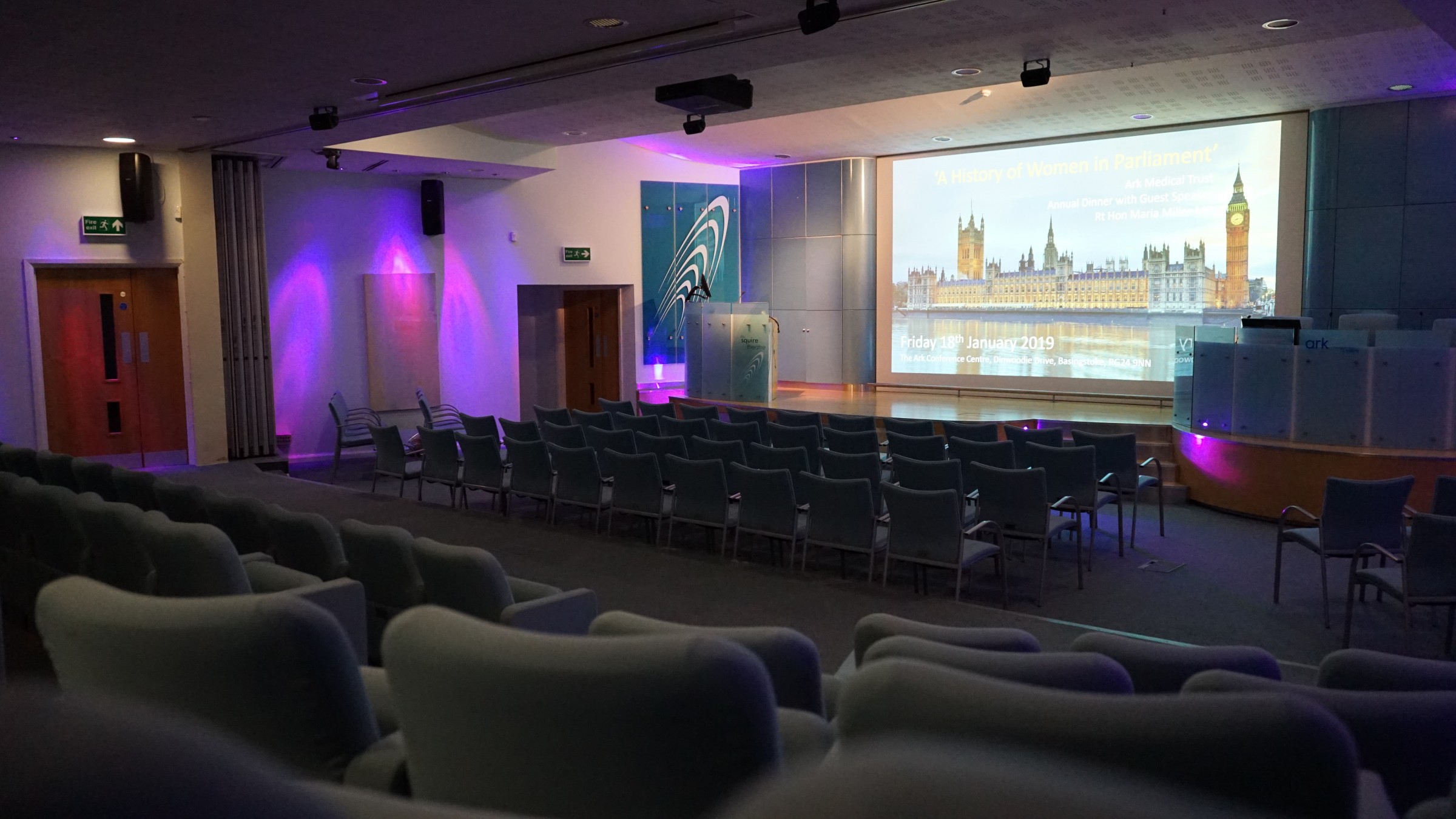 Pavilion Link
Our Squire Theatre has recently had it's connection to the Pavilion completed and now we are able to stream presentations and audio to the 103" plasma TV in the Pavilion; useful when using the Pavilion for sponsors or exhibitors etc. 
View Floorplans & Layouts
Capacities
Roll over the options below to view different room layouts:
Dimensions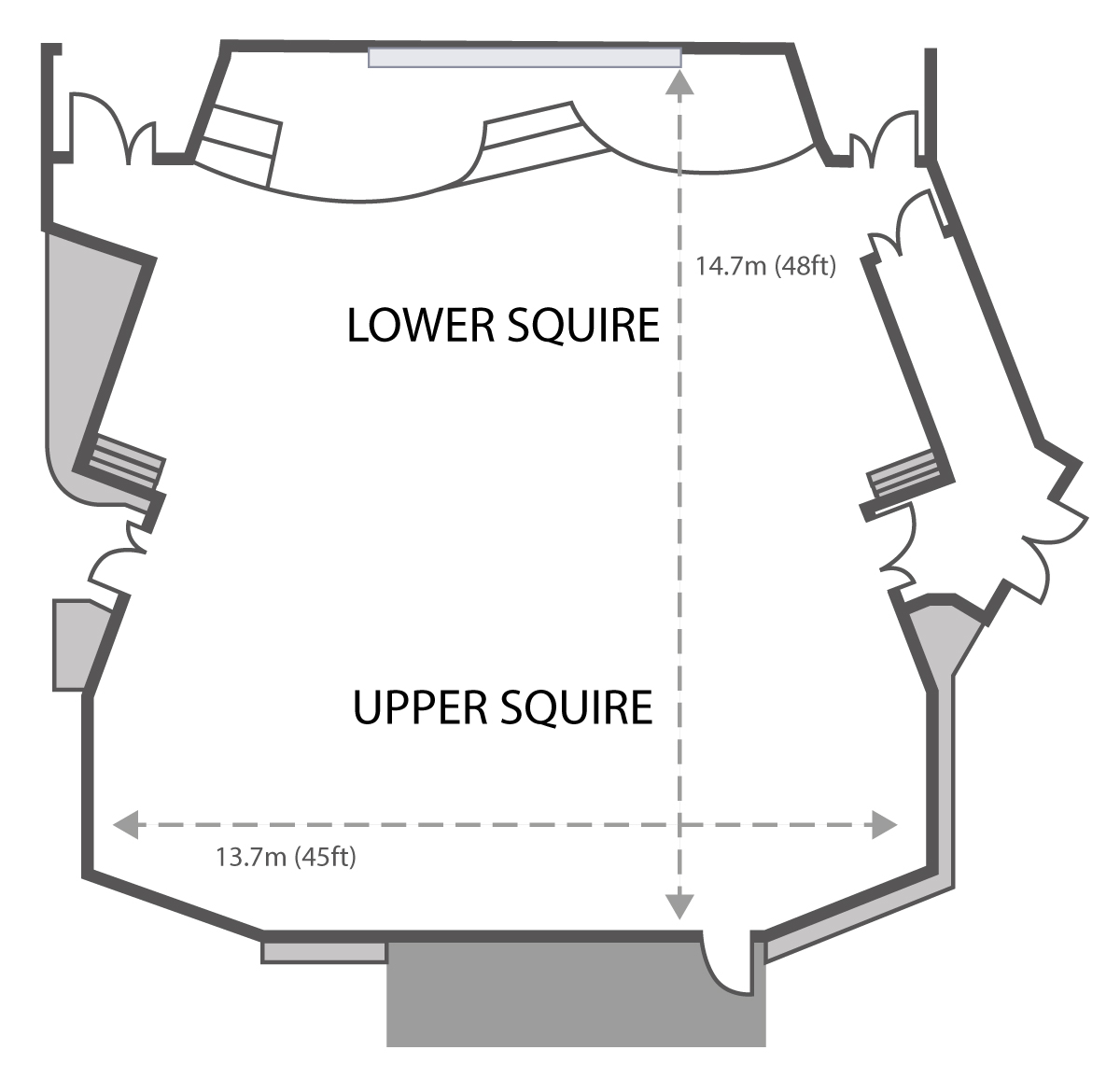 Cabaret (50)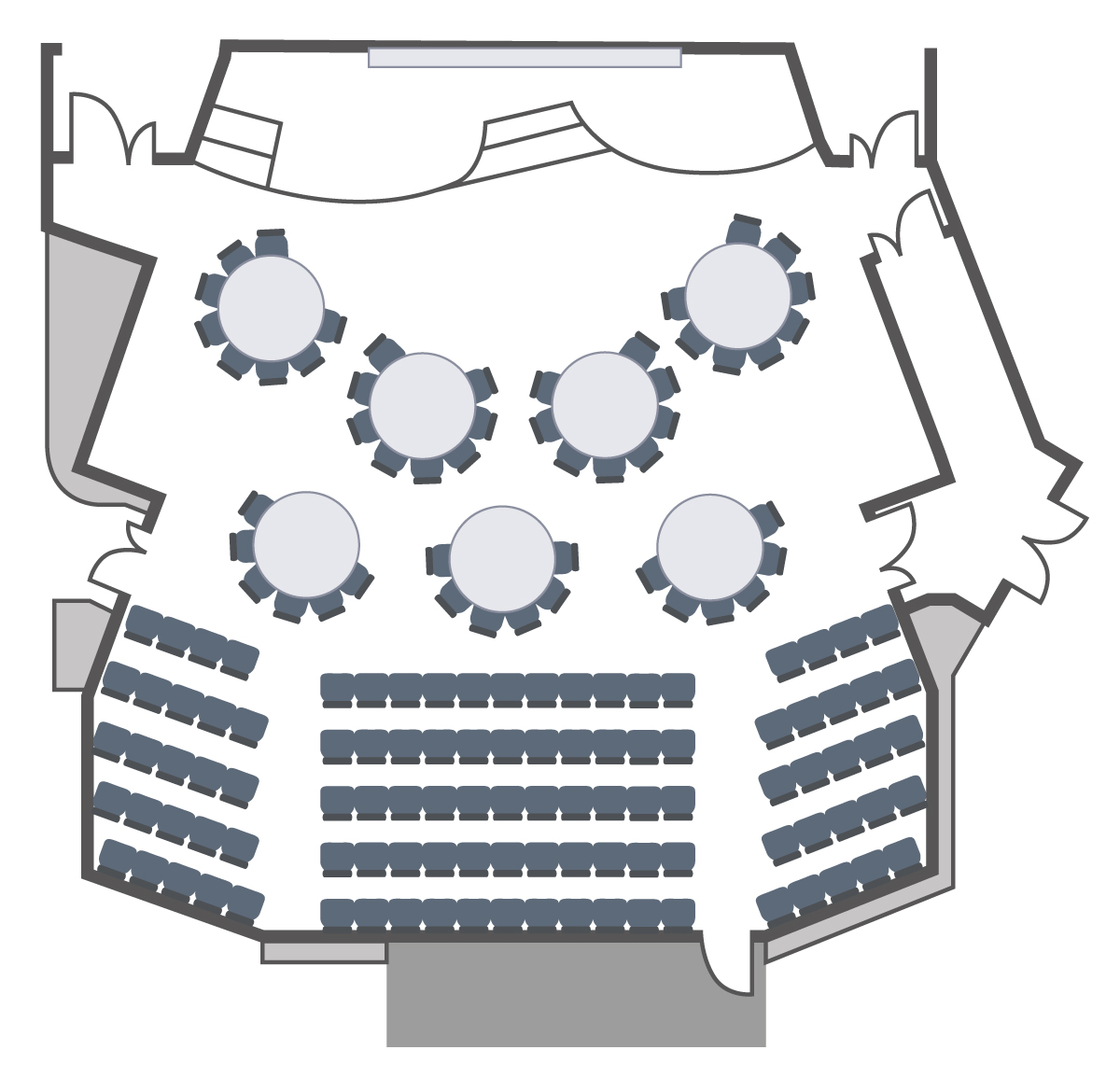 Theatre (200+)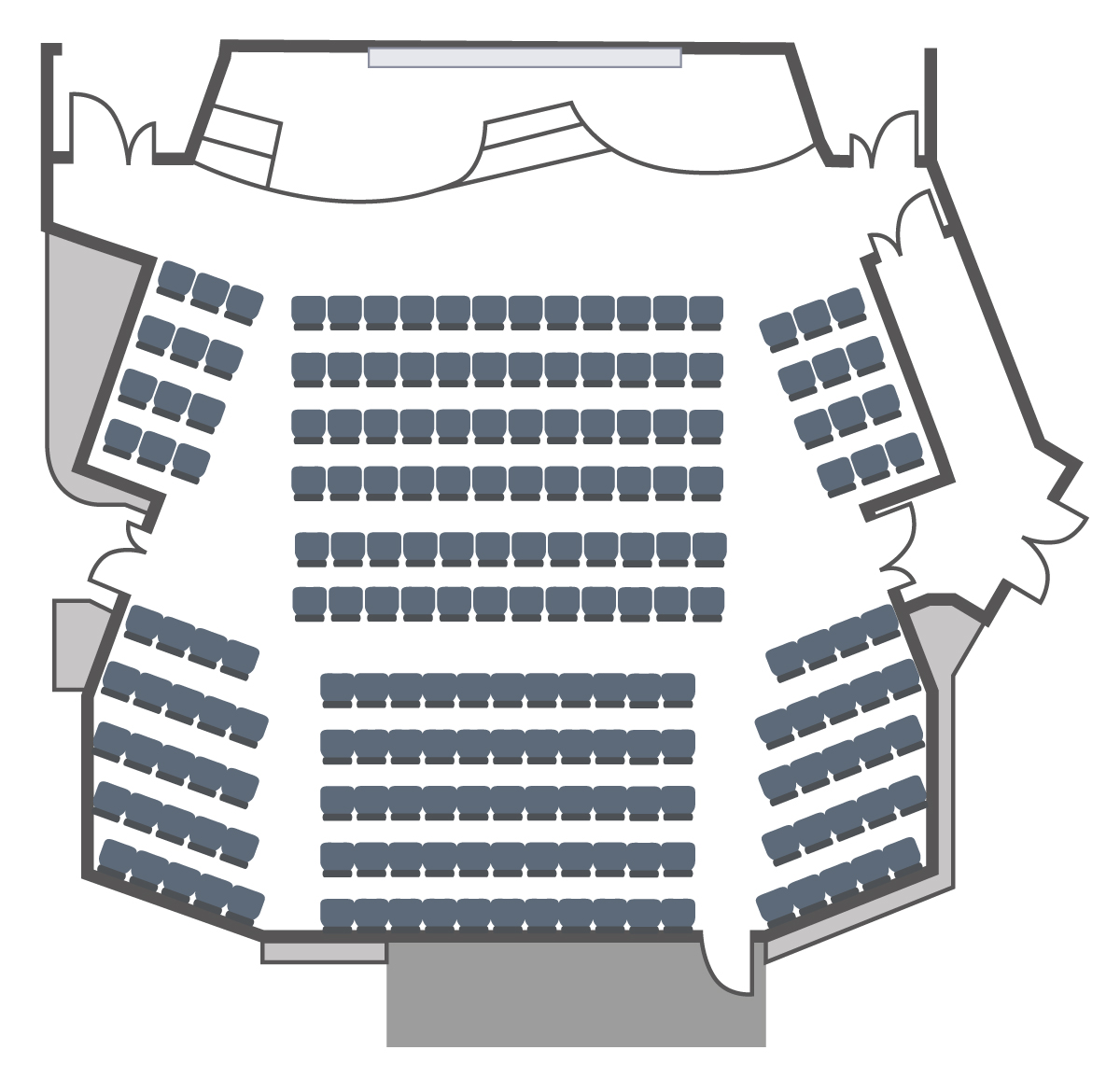 Floorplans not to scale. Room layouts for illustration purposes only
Our rooms:
Catering & Hospitality
We are delighted to enclose a few suggested menus which are just an indication of our repertoire.
We can ensure you get the right menu served in the right style, working within a budget but always exceeding your expectations.
We can also advise and supply additional requirements such as themed events, music, balloons, flowers, stationery, entertainment and fun.
If you supply the guests, we'll do the rest!